This 4-week Pensole design class brought four teams of students to Portland, OR to learn from and design for the adidas brand with a focus on their Futurecraft ideology. The maker approach to this class put an emphasis on prototyping with each team being given a specific sports category to work with and each designer in that team a particular way of making.

Our team was assigned Cleated US Sports with my focus being
performance football and 3D design
.
The objective was to design for the next generation of football player by blending performance with bold style and appealing to a more conscientious budding star.
PERSONA

Xavier Carter
> High School Athlete/ Aspiring Doctor
Xavier is a 17 year old football star from Miami, Florida. He grew up in the Carol City area of Miami. Along with his exceptional performance in football, Xavier is a phenomenal student. He dreams of becoming a doctor and using his ability to give back to all those less fortunate in his neighborhood, city, and around the world. His clean yet fun personal style is mostly derived from his passion for art and a touch of the Miami night scene.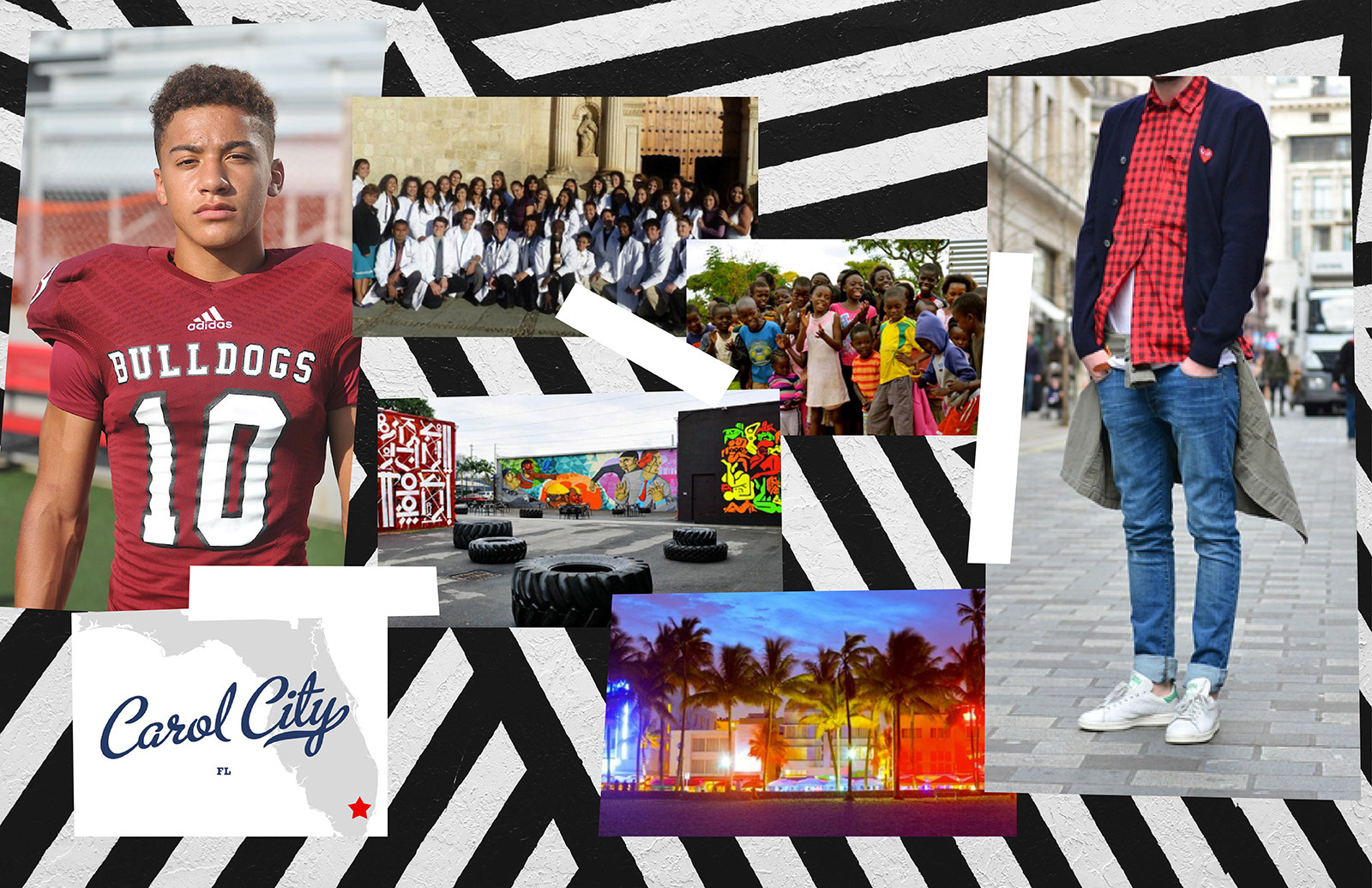 GETTING STARTED

The format of this particular Pensole Masterclass had a greater focus toward hands-on experimentation and that is exactly how we began. Building on the research our team had gathered up to that point, we jumped into the construction of numerous rough models to explore possible directions for each of our projects. Sketches and notes helped flesh out and describe the ideas more thoroughly but it was the collection of models that really drove our conceptual processes forward.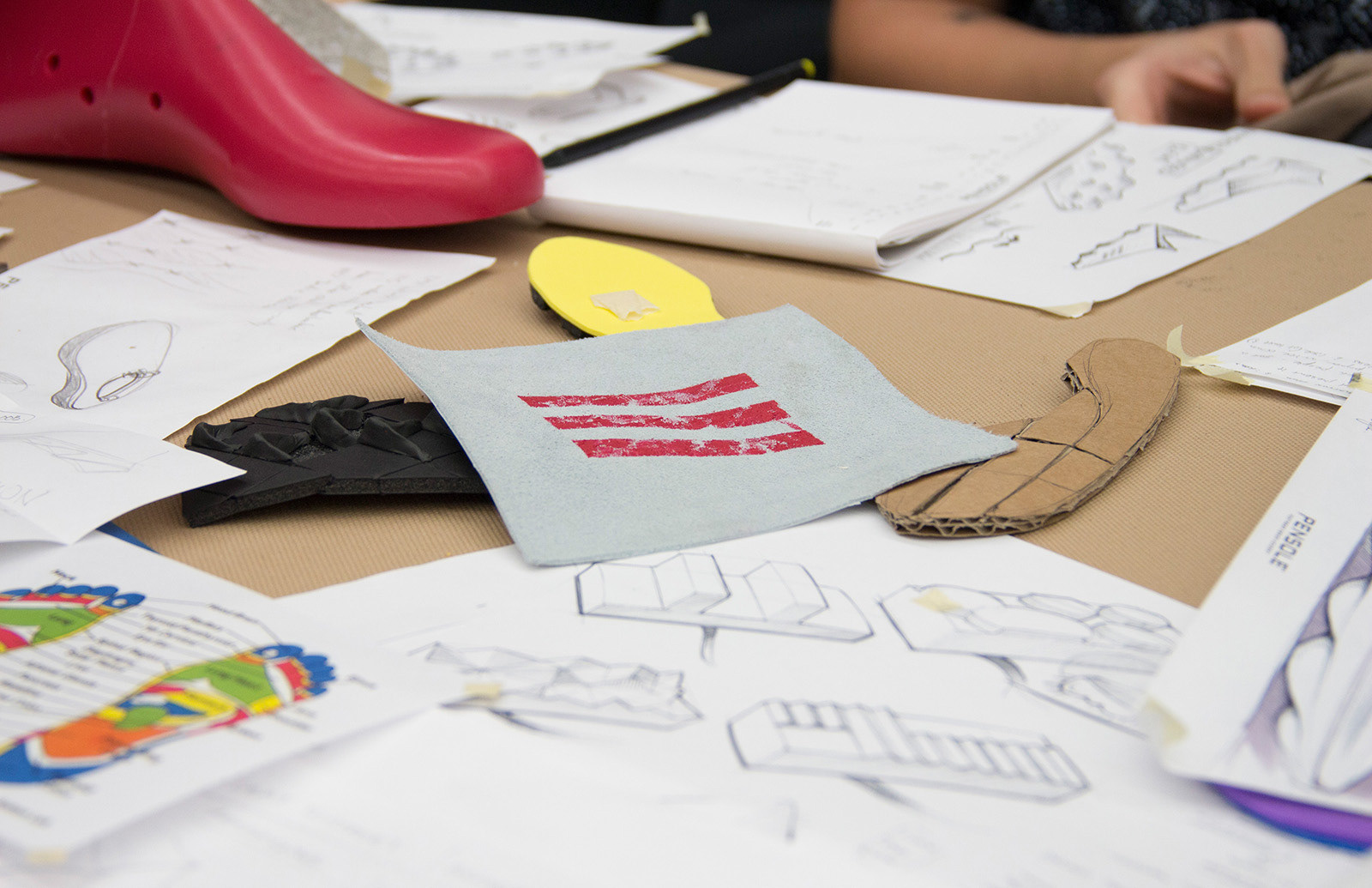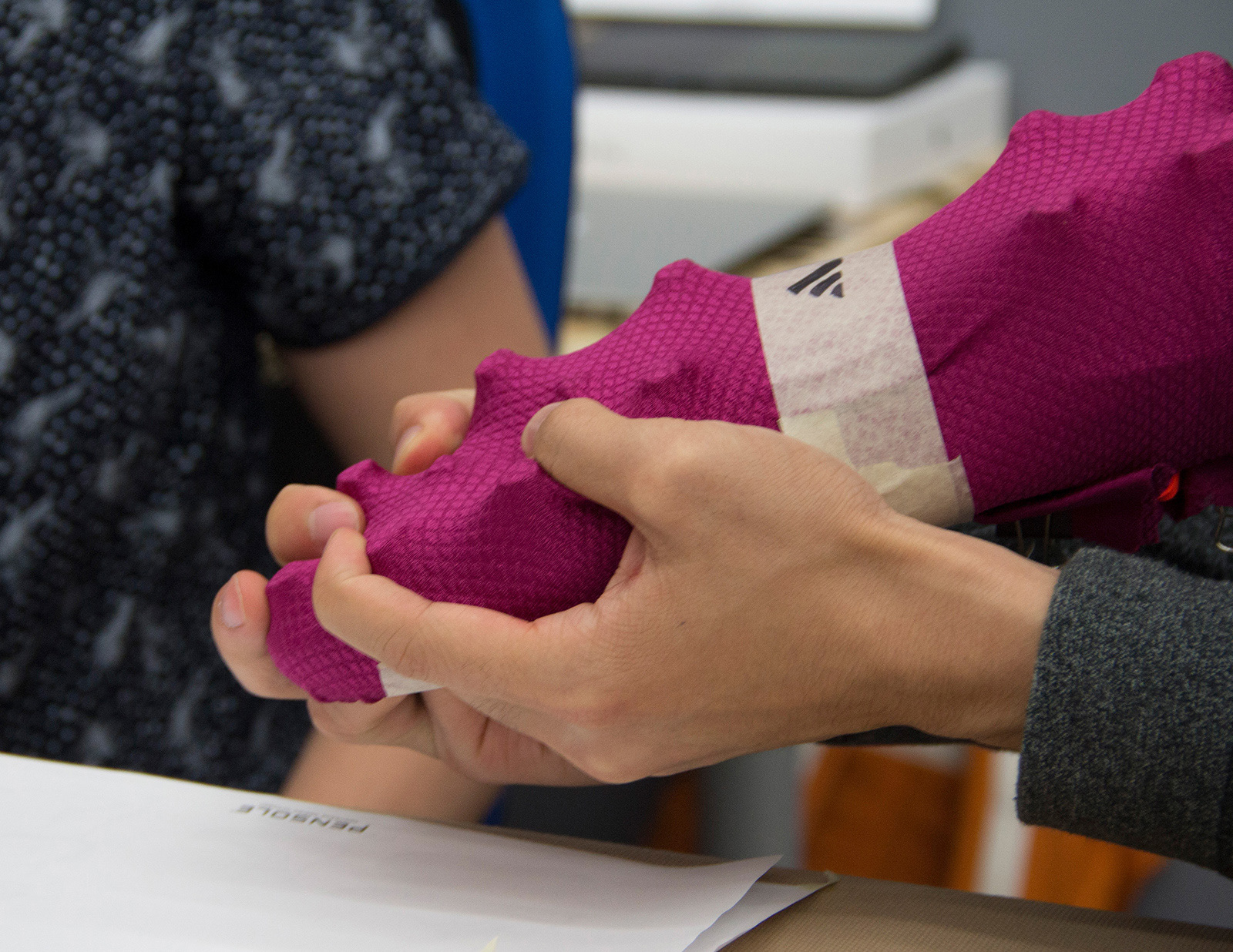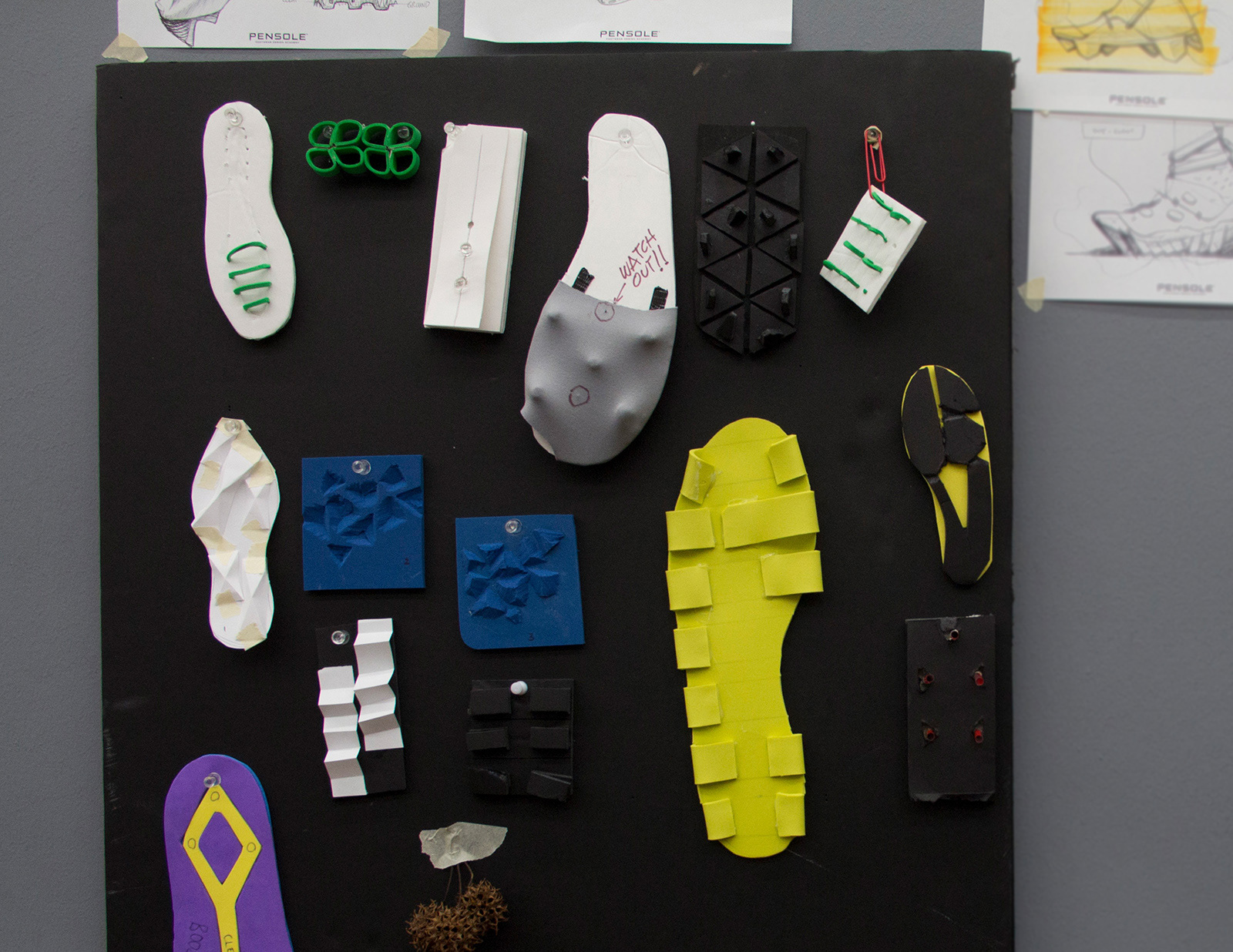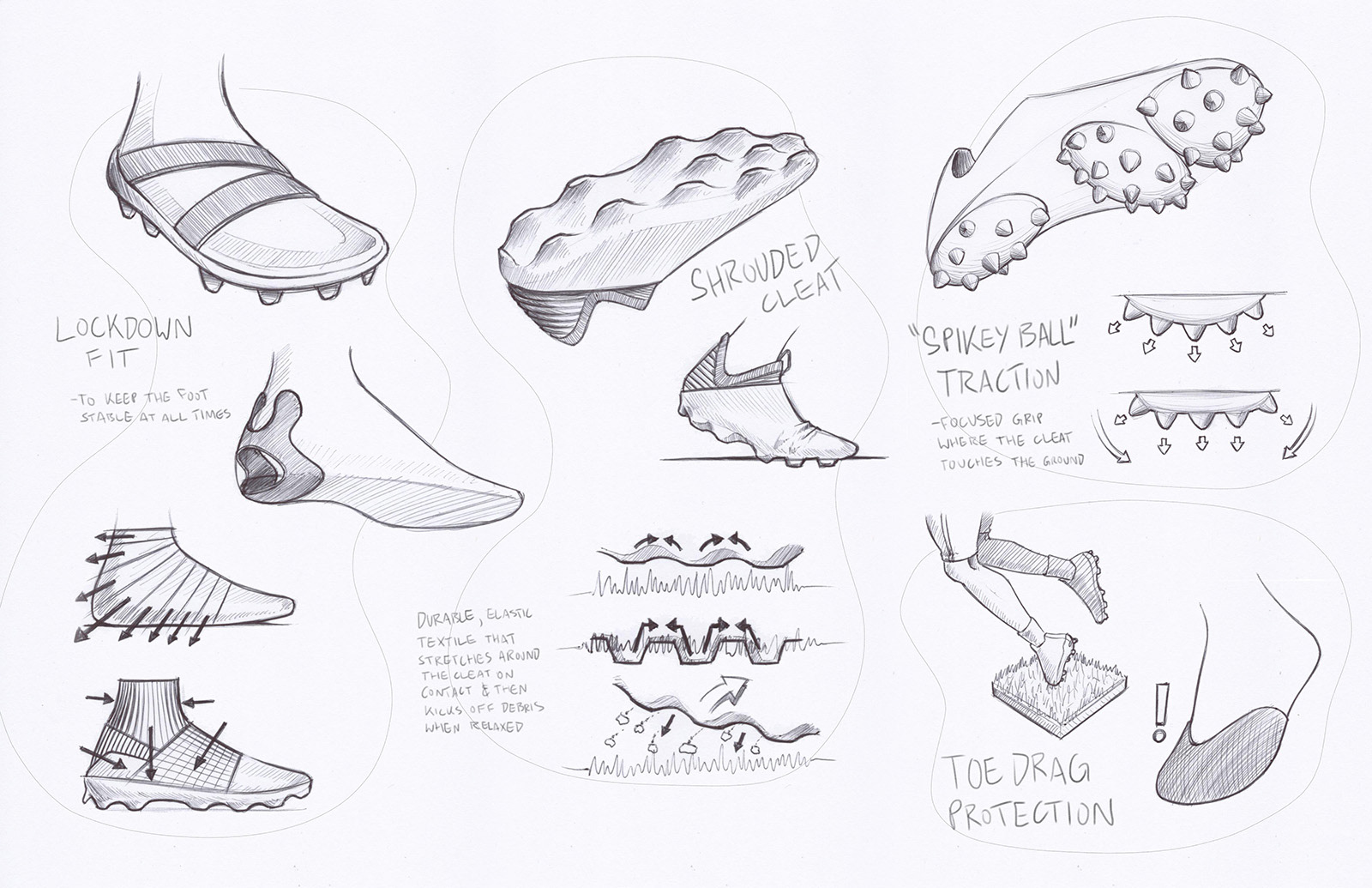 DIRECTION


My research pointed to the topic of injuries in football. In particular, knee injuries came up quite often. One cause was the fact that these large players move so quickly, specifically in terms of cutting action and changes of direction. The question became focused on how to design for this type of movement.
During the initial exploration, I came across an image of a dog's toy – the spikey rubber ball kind – and noticed how the spikes react when pressure is applied. When the ball is at rest, all the spikes diverge away from the centre but when pressure is applied to an area of the ball, the spikes converge toward that focused area.
This type of outsole could provide traction that grips the ground rather than digging into it, potentially putting less strain on the players knees.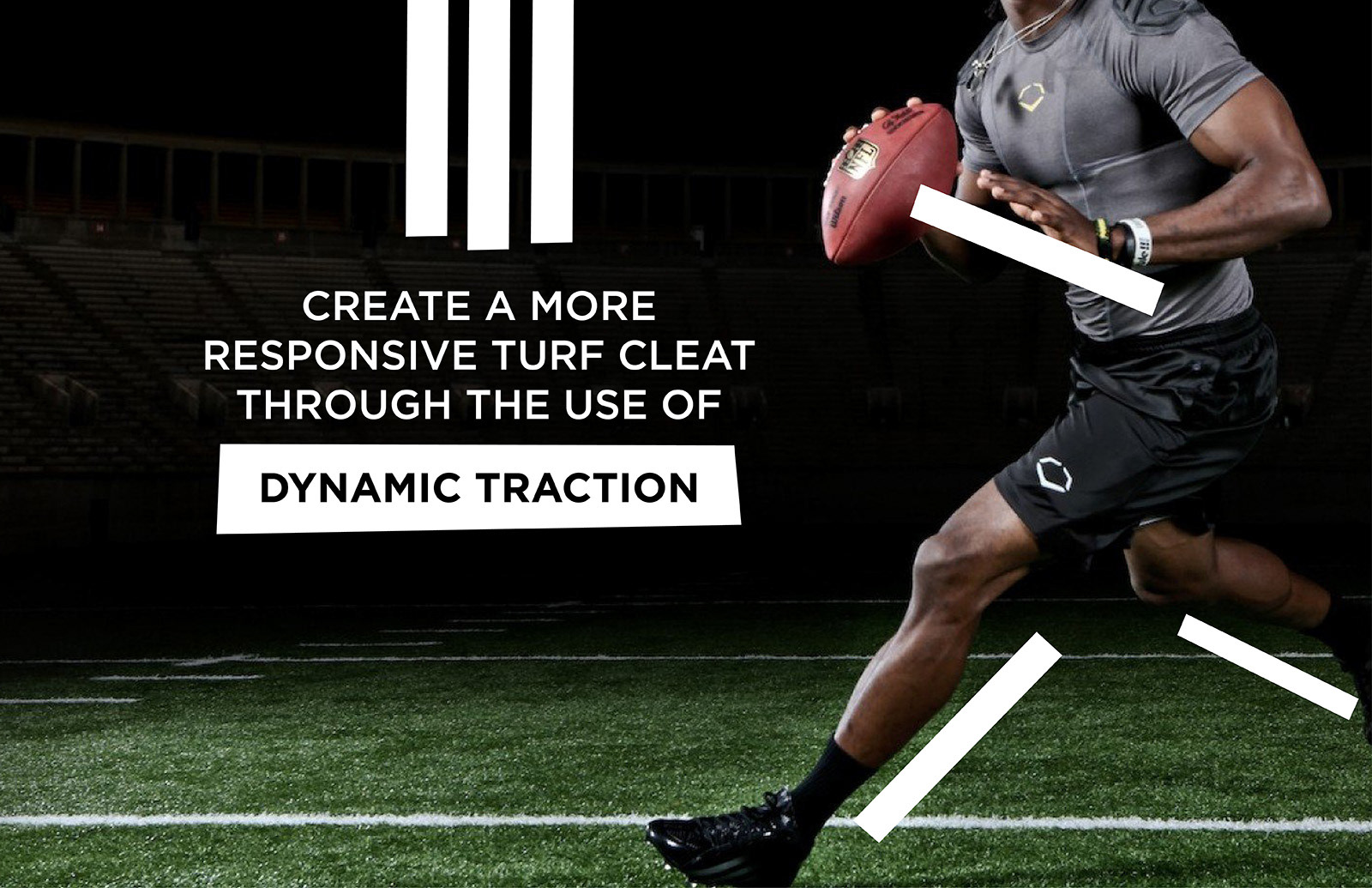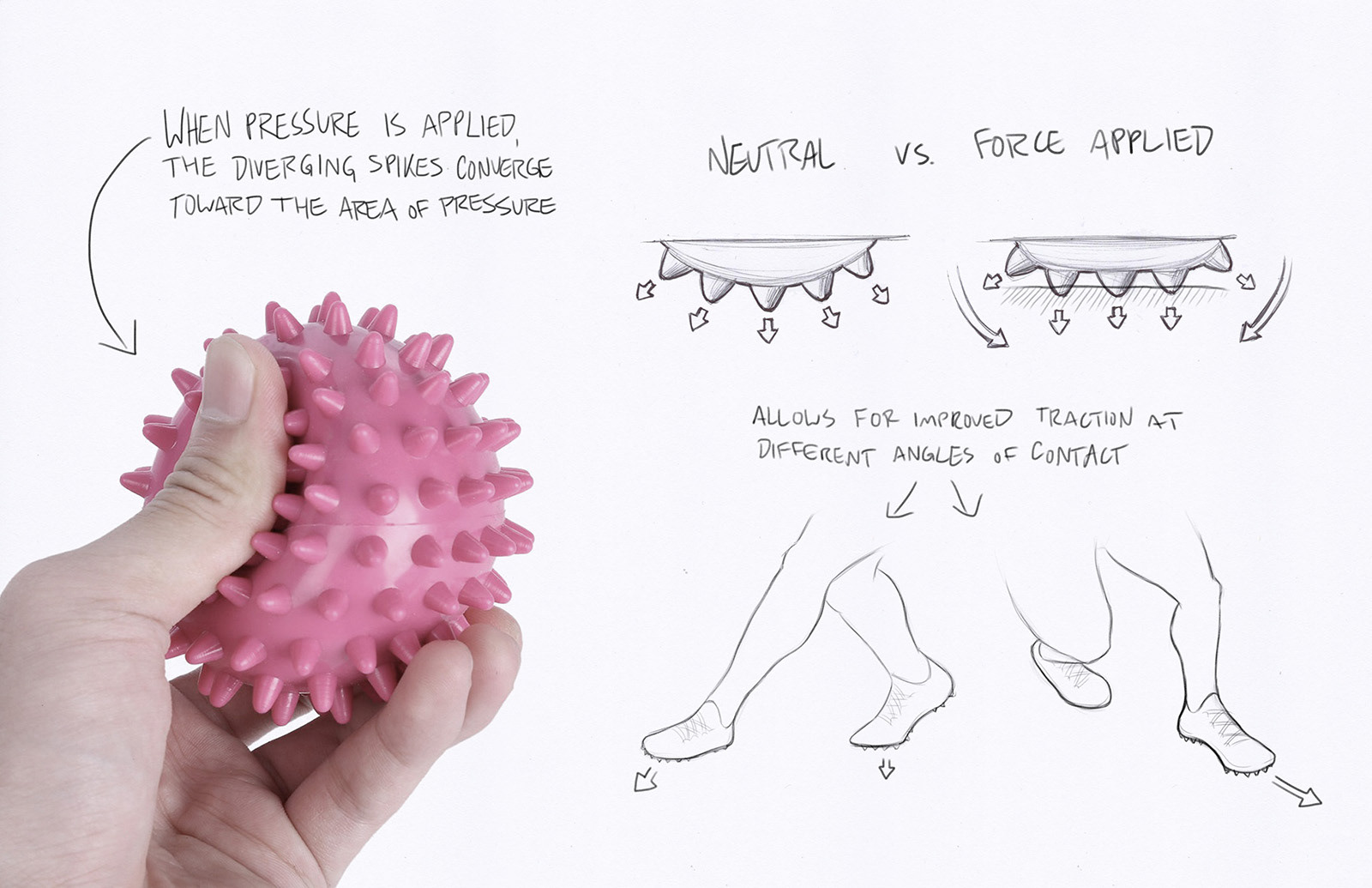 IDEATION

With a direction in mind, the next phase consisted of a flurry of sketching to explore the visual direction of the shoe. Drawing helped to create a clearer vision of how to apply the key features of the previous phase.

Areas of focus were lock-down fit, toe protection, and a seemingly lighter shoe by making it feel like an extension of the lower leg.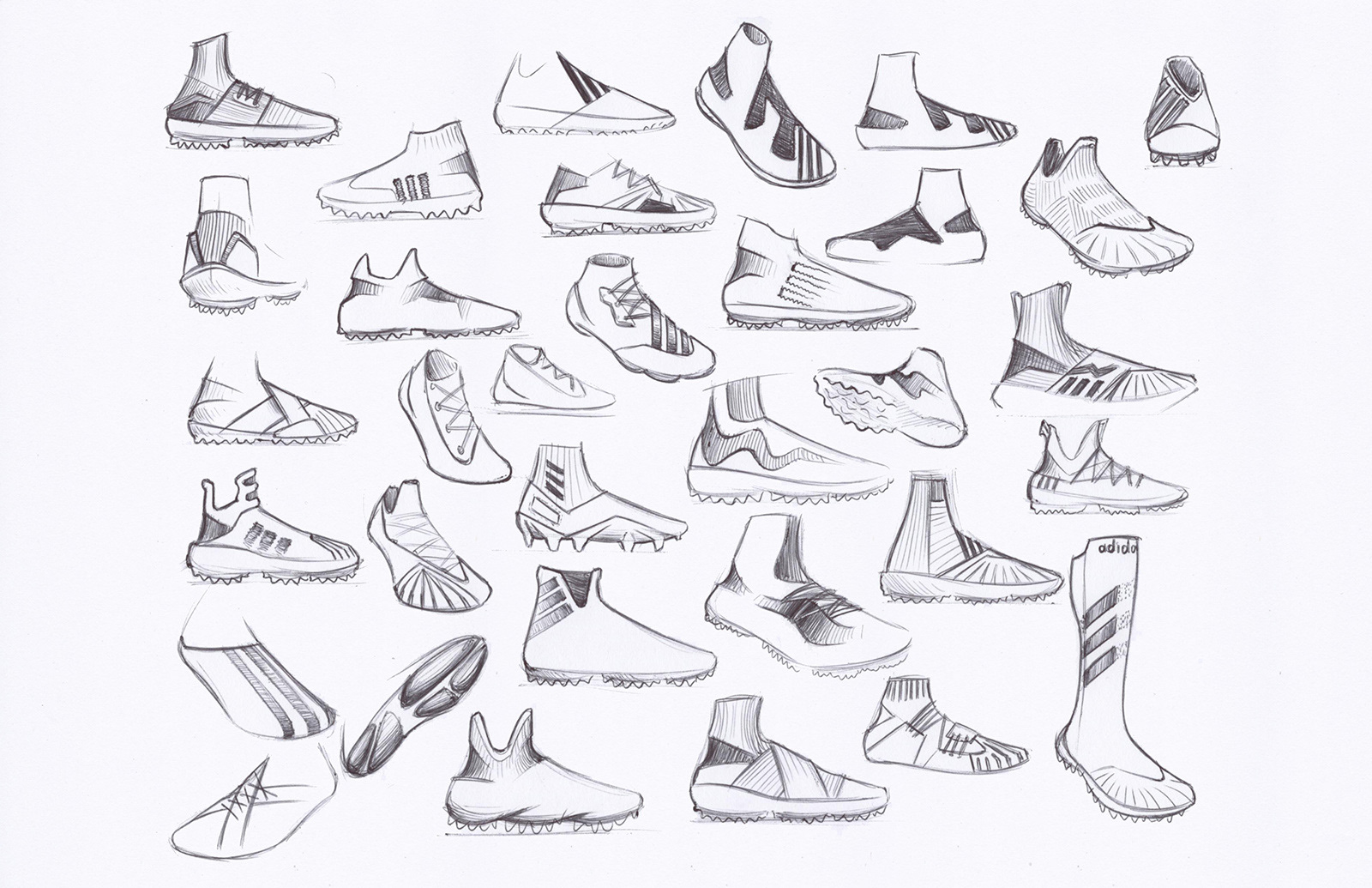 DEVELOPMENT


Next, we moved on to crafting our designs into physical prototypes. The Maker aspect of the class was back in full swing. Luckily, we had a massive library of materials to apply and tools to use.
This process included tape-ups, patter drafting, material testing and selection, heat pressing, and sewing.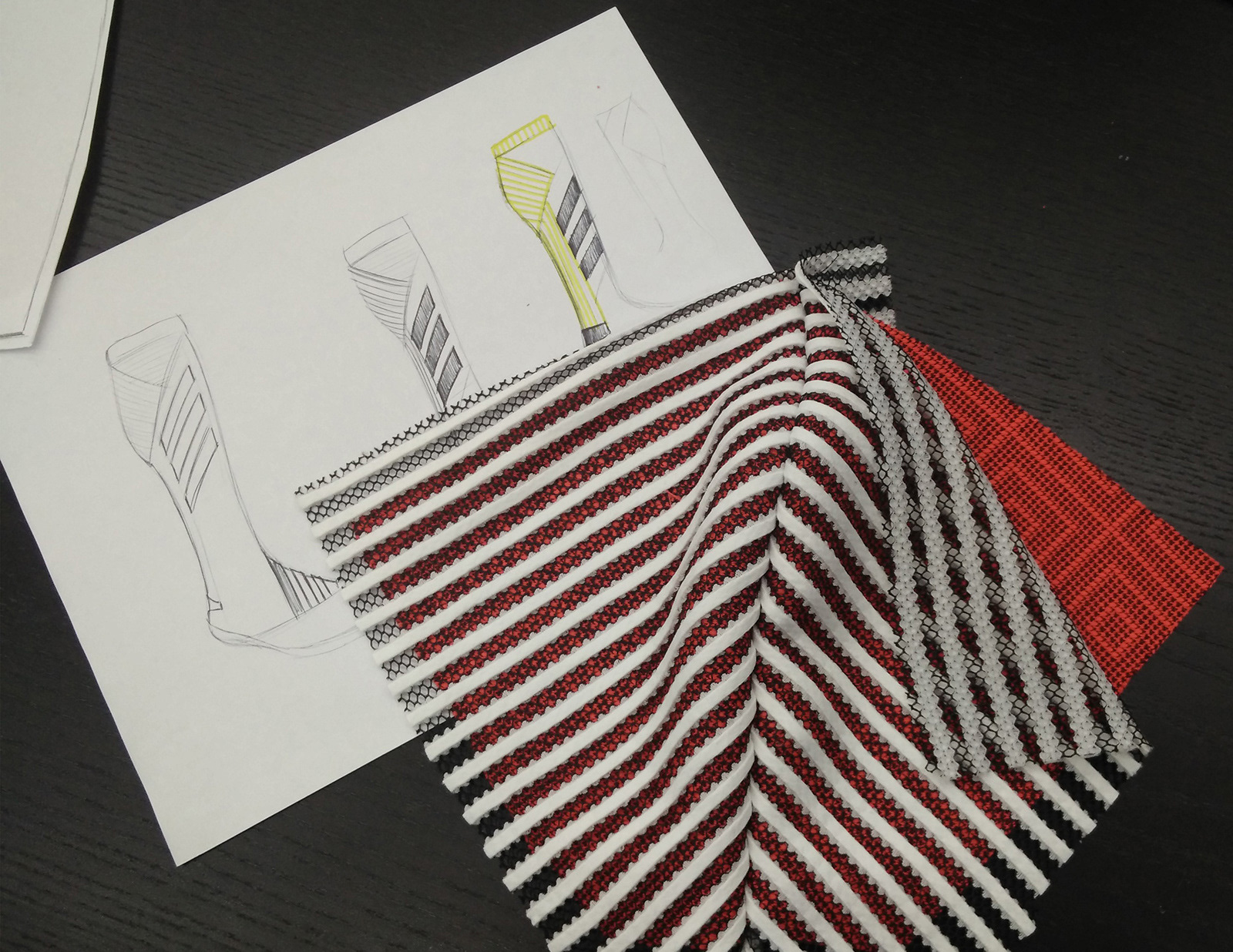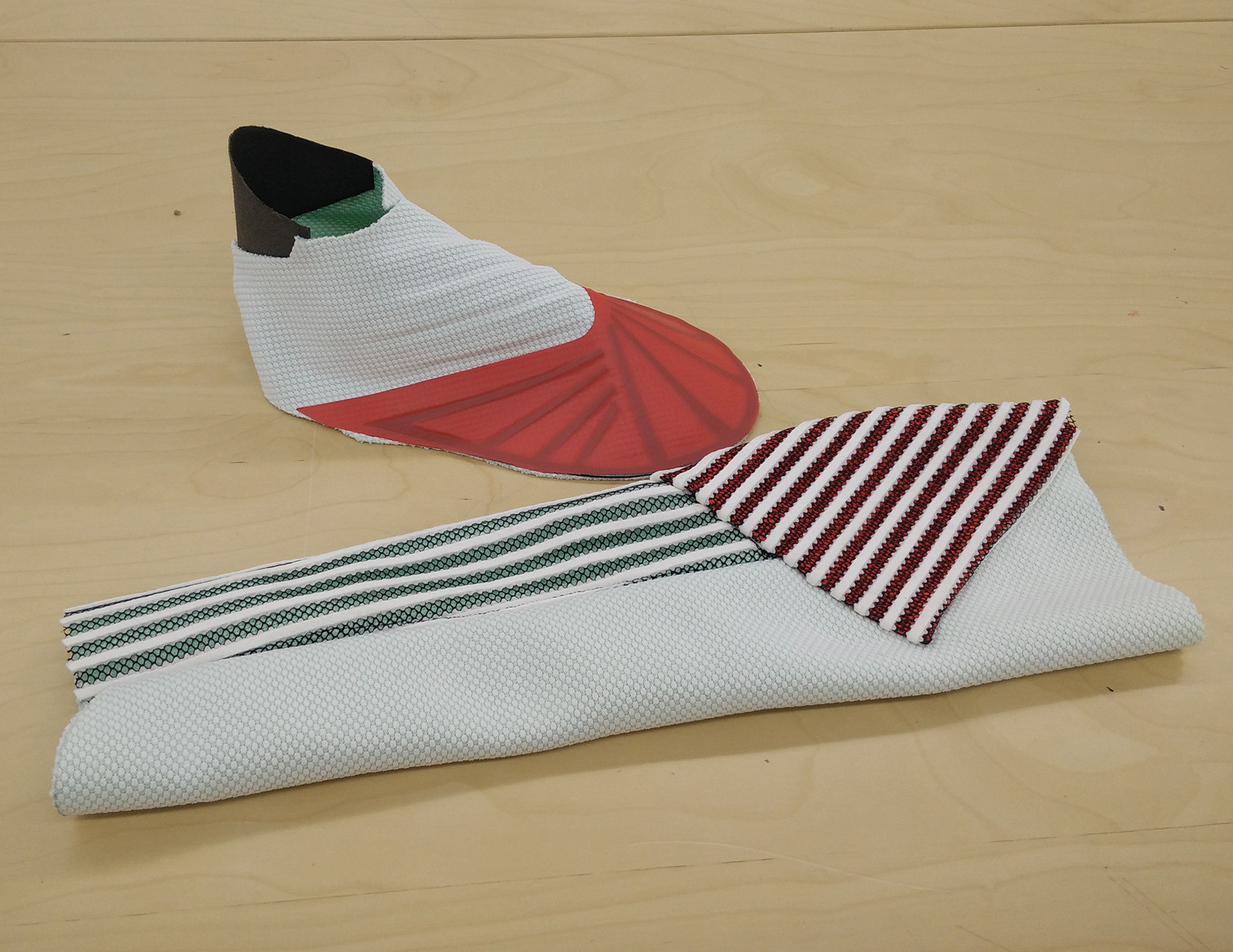 3D PROCESS

For the outsole/midsole of my prototype, I had the privilege of working with the adidas 3D Design team to turn my concept into a fully 3D printed sole. They provided the knowledge, tools, and guidance and let me explore.
The process blended traditional sketching with 2D and then 3D CAD work.
This was an entirely new process for me which seemed slightly daunting for someone unfamiliar with the 3D software used but was actually very streamlined and refreshing to use. It's pretty satisfying to turn your 2D idea into 3D so easily.